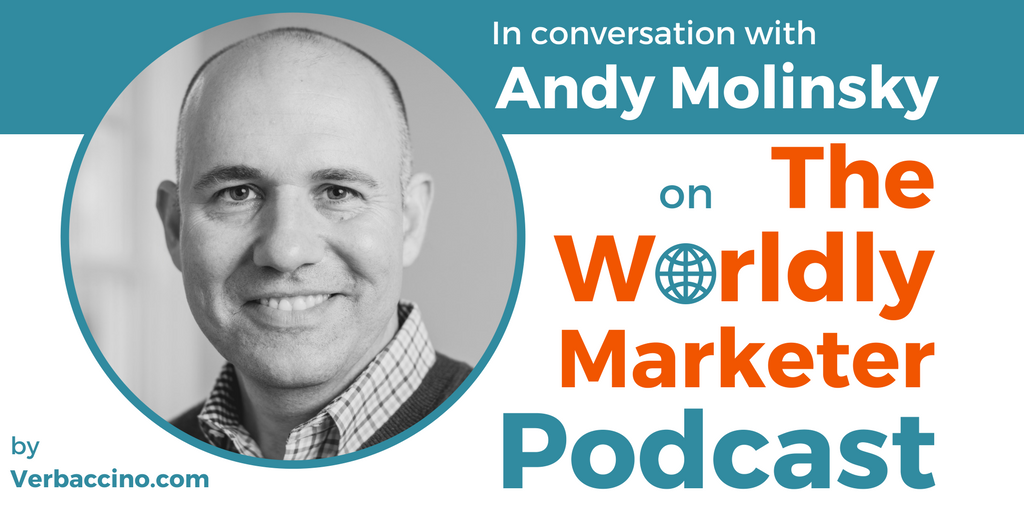 (Length: 31 minutes)
Andy Molinsky is the author of Global Dexterity: How to Adapt Your Behavior across Cultures without Losing Yourself in the Process. Published in 2013, it received an Axiom Award for Best Business Book in International Business & Globalization. It has been widely used in organizations around the world, including Boeing, AIG, the US Air Force Academy, and the Clinton Foundation, to name a few.
Andy's received his Ph.D. in Organizational Behavior and his M.A. in Psychology from Harvard University. He also holds a B.A. in International Relations from Brown University, and Master's Degree in International Business from Columbia University.
Through his current position as a Professor at Brandeis University's International Business School, Andy helps people develop the insights they need to act outside their personal and cultural comfort zones. His articles have been featured in the Harvard Business Review, Inc. Magazine, the Financial Times, the Boston Globe, NPR, and Voice of America – among others.
When he's not teaching, Andy consults and lectures widely to university and corporate audiences. He has been recognized as a Top Voice for LinkedIn for his work in education, and his latest book, Reach: A New Strategy to Help You Step Outside Your Comfort Zone, Rise to the Challenge and Build Confidence, was published in January 2017.
Links:
Find this episode on Apple Podcasts, Google Podcasts, Stitcher, or Spotify!