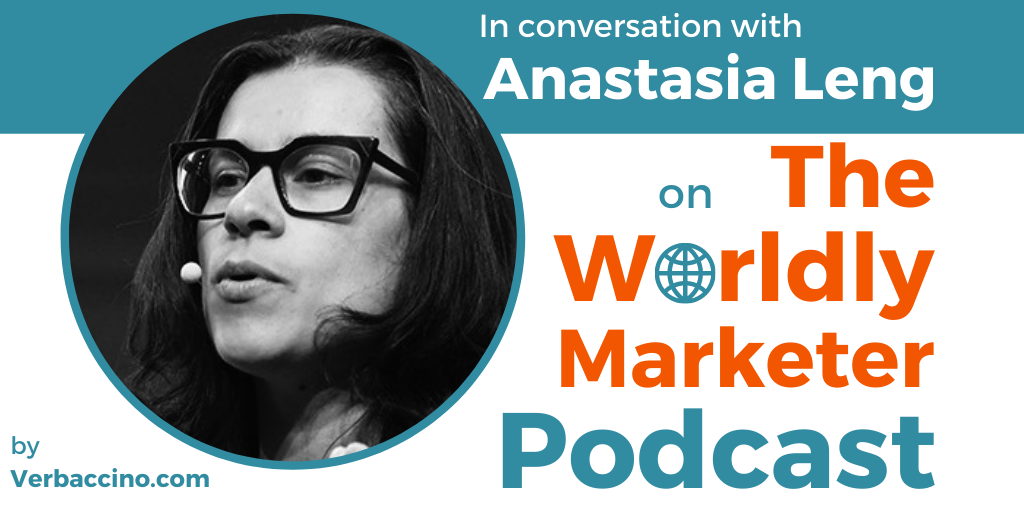 (Length: 45 minutes)
This episode was sponsored by Vistatec.
Anastasia Leng is the Founder & CEO at CreativeX, a technology company whose mission is to advance creative expression through the clarity of data. Launched in 2015, CreativeX uses analytics tools to help Fortune 500 brands like Unilever, Mondelez, Heineken, ABI, Google, L'Oréal, and Pepsi to measure the efficiency, the consistency, and the impact of their visual marketing content across the globe.
Fluent in three languages, Anastasia has been a nomad all her life. She has lived in Bahrain, Vietnam, Hungary, Russia, France, England, and currently makes her home in New York City. With a background in psychology and sociology, she began her career in marketing in 2005. She joined Google in 2007 as a Product Marketing Manager, and eventually took on the role of New Business Development Manager, EMEA, where she led entrepreneurship efforts in Europe, Africa, and the Middle East, and was responsible for early-stage partnerships for Google Voice, Chrome, and Wallet.
In 2012, Anastasia launched herself into entrepreneurship when she co-founded Hatch.co, an e-commerce company that was selected as one of Time Magazine's "Top 10 Startups to Watch in New York", one of TimeOut NY's "Best New Shopping Sites of 2013", as well as one of the four most innovative retail companies by the National Retail Federation.
In this interview, Anastasia talks about why it's so important for global brands to ensure quality and consistency across their creative marketing assets, how CreativeX helps Fortune 500 brands solve specific pain points around their visual content, and how she is successfully managing the international growth of her own company. Catch Anastasia's valuable insights!
Links:
Find this episode on Apple Podcasts, Google Podcasts, Stitcher, or Spotify!