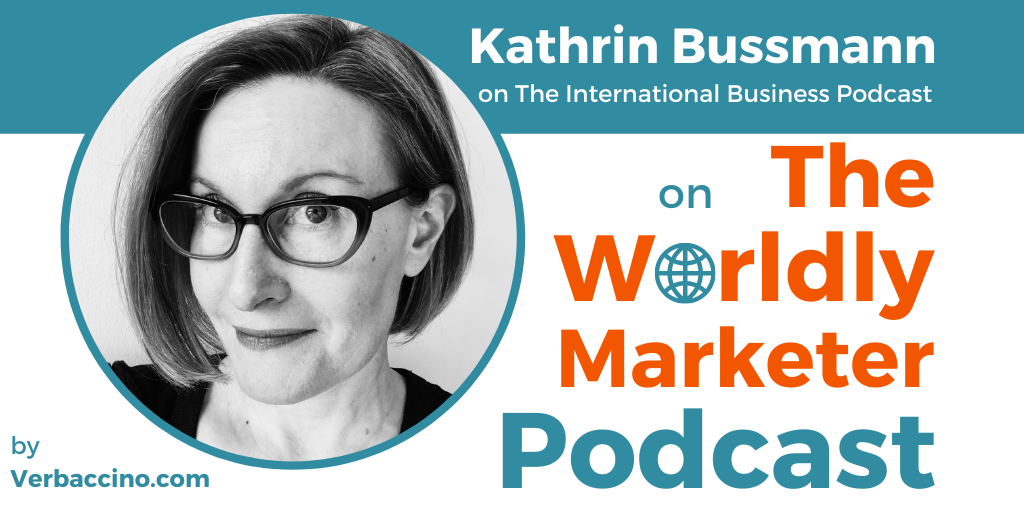 (Length: 33 minutes)
This episode is a special cross-post. As a the producer & host of The Worldly Marketer Podcast, Kathrin Bussmann is usually the one asking the questions. But in early 2022, she was invited to be a guest on The International Business Podcast, where she found herself on other side of the interview process.
In conversation with Audrey Wagner, one of the podcast's co-hosts, Kathrin talks about her definition of 'branding', the importance of having a global brand strategy in today's digital economy, how localization contributes to global business success, and why she chose to focus her consulting practice on the Cleantech sector.
With kind permission from Audrey and her colleagues, Leonardo Marra and Stefano Santelmo, Kathrin is re-sharing the interview here, for the benefit of her Worldly Marketer Podcast listeners. She also encourages everyone to check out The International Business Podcast for many more interesting episodes on a wide variety of global business topics.
Happy listening!
Links:
Find this episode on Apple Podcasts, Google Podcasts, Stitcher, or Spotify!