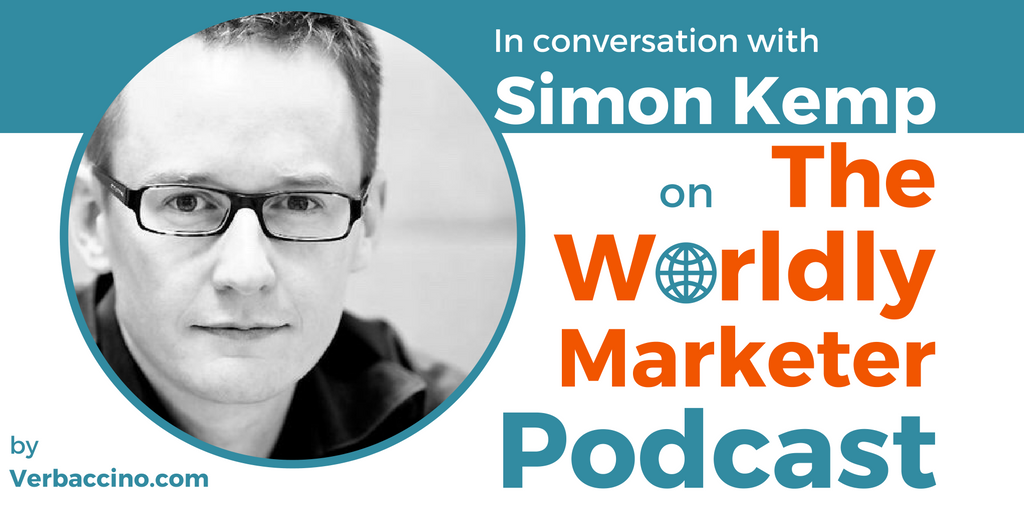 (Length: 36 minutes)
Simon Kemp is an international marketing strategist who has been featured on The Worldly Marketer Podcast before (cf. episode TWM 022). Originally from Scotland but based in Singapore since 2007, he has worked with many of the world's most admired companies.
Recently, Simon has taken on the role of Global Consultant at We Are Social, a global marketing agency with 11 offices around the world and headquarters in London, U.K. He is also the founder of his own marketing consultancy, Kepios.
Every year, Simon publishes a Digital Global Overview report, as well as a Digital Yearbook, which are in-depth studies of the latest Internet, social media, and mobile usage statistics around the world. Publicly available via SlideShare, these studies have become invaluable for anyone involved in international business or marketing.
Simon has just published his 2017 report – in partnership with We Are Social and Hootsuite – and it's his most comprehensive study to date. On today's episode of TWMPodcast, he shares some of his most interesting findings and main takeaways from this latest study.
Links:
Find this episode on Apple Podcasts, Google Podcasts, Stitcher, or Spotify!