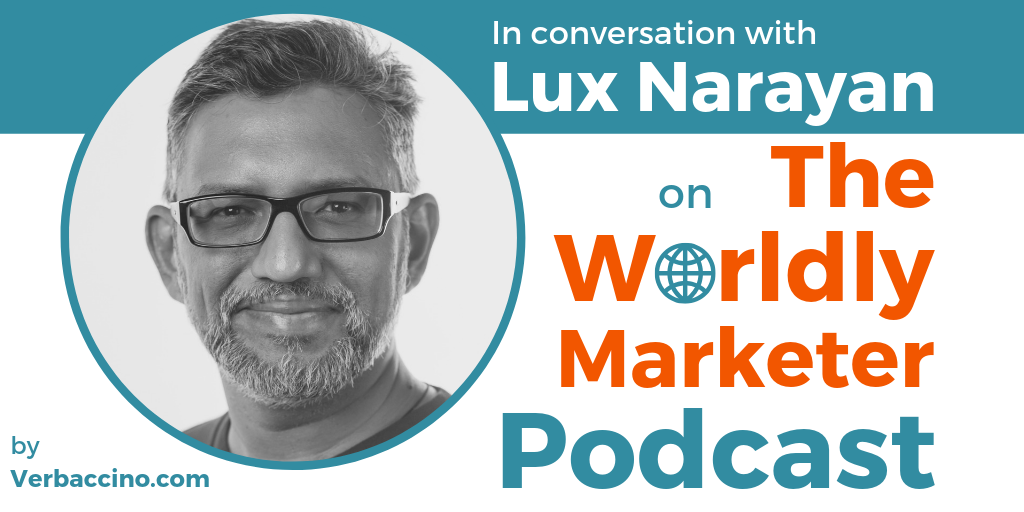 (Length: 38 minutes)
This episode was sponsored by Vistatec.
Lux Narayan is the CEO at Unmetric, a social-media intelligence platform that he launched in 2012. Unmetric's clients include Fortune 500 companies, agencies, and other large global brands that want to engage more meaningfully with their target audiences. Through Unmetric's platform, brands can analyze how well their social-media content and campaigns are performing, compared to their industry competitors, and they can use their analytics to benchmark and enhance their social media efforts.
With a background in mechanical engineering and marketing, Lux can certainly be described as a serial entrepreneur. Prior to Unmetric, he co-founded an online data backup company called Vembu Technologies, where he still serves on the Board of Directors. He also helped found a non-profit called ShareMyCake, focuses on raising a more 'giving' generation of kids, who are sensitive to the realities around them.
In his role as CEO at Unmetric, Lux leads a team of 70 people distributed across three continents, four countries, and 10 cities. He divides most of his time between the company's operations in India and its U.S. headquarters.
Outside of work, Lux has many interests, including origami, molecular gastronomy, stand-up and improv comedy, mountain trekking, and scuba diving. And you can look up his popular TED Talk called "What I Learned From 2,000 Obituaries", in which he shares what those immortalized in print can teach us about a life well lived.
Links:
Find this episode on Apple Podcasts, Google Podcasts, Stitcher, or Spotify!