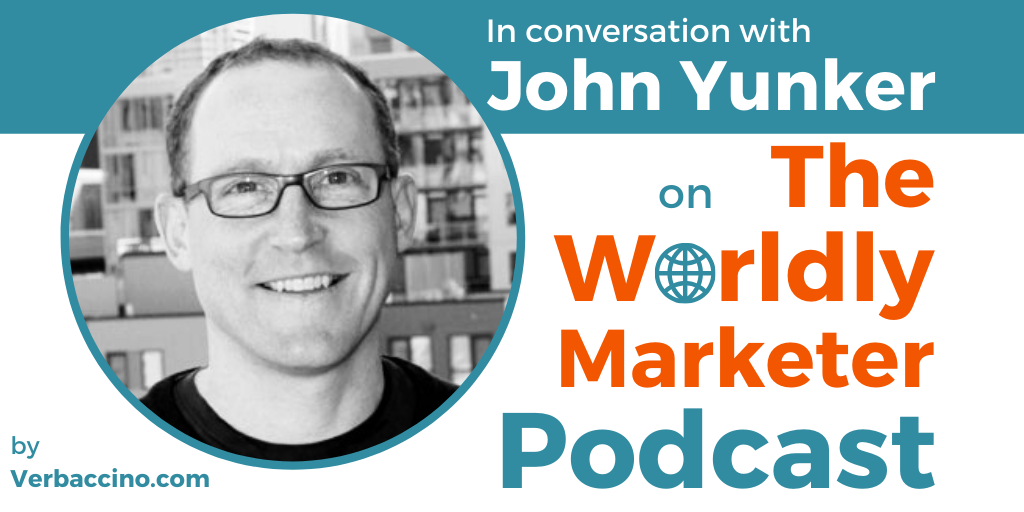 (Length: 44 minutes)
This episode was sponsored by Vistatec.
John Yunker is a recognized expert in the field of web and software globalization. I first featured him on episode #059 of this podcast. He is the Co-Founder & President of Byte Level Research, which was the first agency devoted to web globalization best practices. Over the past two decades, he has helped hundreds of companies improve their global content, websites and software through specialized reports, consulting, speaking and training sessions.
Based in Ashland, Oregon, John works with many of the world's largest multinational corporations, providing web-globalization training and benchmark services. He is perhaps best known for his series of specialized reports on web globalization, in particular the annual Web Globalization Report Cards, of which the 16th edition is now available.
Besides his annual report cards, John is the author of several books, including The Savvy Client's Guide to Translation Agencies, The Art of the Global Gateway, and Beyond Borders: Web Globalization Strategies, which was the first book devoted to the emerging field of web globalization. This widely acclaimed book is now used in a number of university and corporate training programs and by most of the Fortune 500. John's most recent book is called Think Outside the Country: A Guide to Going Global and Succeeding in the Translation Economy, and it is now available in Japanese as well as in English. Last but not least, John writes a blog called Global by Design.
Tune into this latest conversation with John, as he shares some takeaways from his 2020 Web Globalization Report Card – including current best practices and which companies are leading the field ­– as well as some thoughts on the future of global business.
Links:
Find this episode on Apple Podcasts, Google Podcasts, Stitcher, or Spotify!