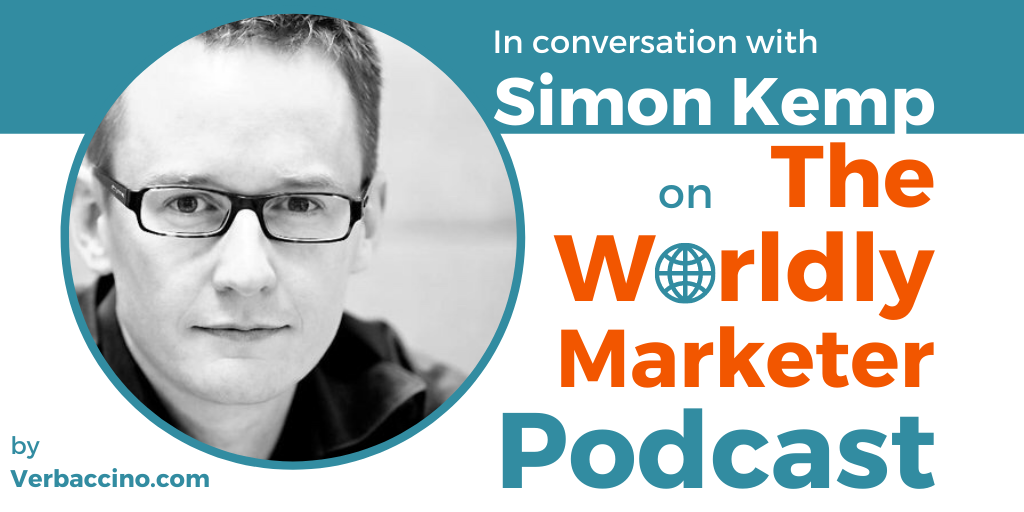 (Length: 55 minutes)
This episode was sponsored by Vistatec.
Simon Kemp is the Founder & CEO at Kepios, a strategy consultancy that helps organizations all over the world to make sense of people's evolving digital behaviours. He is also the Chief Analyst at DataReportal, an online library of up-to-date reports that explore people's digital behaviours around the world. These free reports, which he produces in collaboration with Hootsuite and We Are Social, provide current, country-by-country information on everything from Internet penetration rates to online activities such as mobile usage, social-media habits and e-commerce adoption.
Besides running his own consultancy, Simon is an Advisor on a couple of different Boards, he is a GWI Ambassador, and he is a contributing writer at The Next Web. Originally from Scotland, he has been based in Singapore since 2007, and he has become a perennial guest on this podcast. He has been featured on seven previous episodes, most recently on episode #179.
In this interview, Simon talks about the latest series of Global Digital reports: the 2021 Global Overview Report and the 2021 Local Country Reports. In particular, he focuses on some surprising new trends emerging from those reports, including the massive popularity of image recognition tools, the general shift towards social search (instead of traditional search engines), and the clear preference for educational, instructional content (versus purely promotional content).
Links:
Find this episode on Apple Podcasts, Google Podcasts, Stitcher, or Spotify!