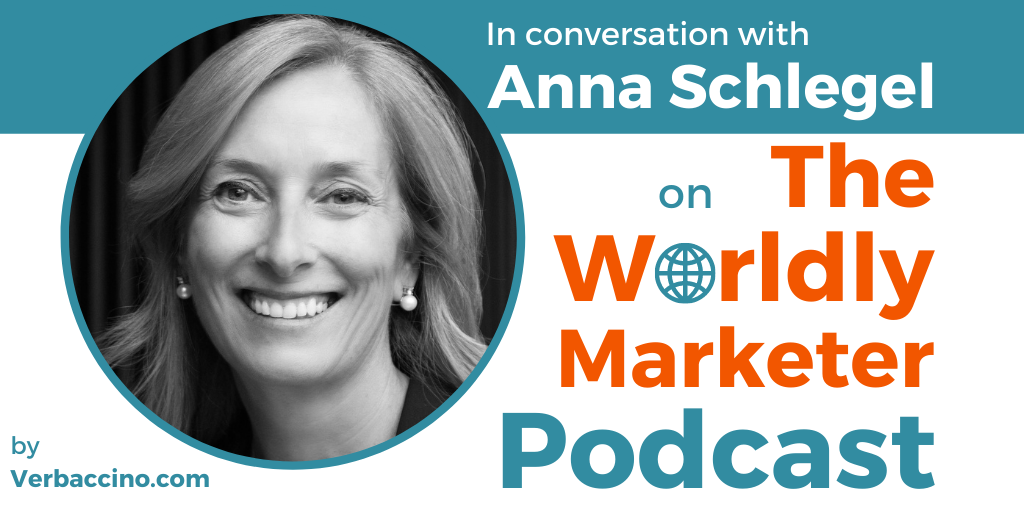 (Length: 52 minutes)
Anna N. Schlegel is the VP of Product, International and Globalization at Procore Technologies, a company that provides cloud-based project-management software for the construction industry. Founded in 2003 and headquartered in California, Procore's mission is to connect everyone in construction on a global platform. With nine offices on three continents, the company now employs 2,500 people globally. Hundreds of thousands of users around the world rely on Procore's collaborative, multilingual suite of tools to manage all types of large-scale construction projects more efficiently and more profitably.
In the world of software globalization, Anna almost needs no introduction, and she has been featured on this podcast twice previously: on epsiode #26 and epsiode #35. She is a recognized expert in Global Product Management and Enterprise Globalization Strategy, and she's one of the most well-known personalities in the Localization industry. She has been blazing a trail in Silicon Valley for over 25 years now, with many impressive achievements and accolades earned along the way. Before joining Procore earlier this year, she spent more than a decade driving global growth at NetApp, the Fortune-500 tech company known for hybrid cloud data services and data management. Previous tech companies that benefitted from her expertise include VMWare, VeriSign, Xerox, and Cisco Systems.
Throughout her distinguished career, Anna has always taken the time to give back to her profession, perhaps most notably as an original Co-Founder and past President of Women in Localization, the leading professional organization for women and their allies in the localization industry. She is also involved with a number of economic development initiatives with her native region of Catalonia.
Last but not least, Anna is the author of Truly Global: The Theory and Practice of Bringing Your Company to International Markets. She originally published her book in 2016, and just recently launched a revised edition.
In this interview, Anna explains why Procore Technologies has prioritized international growth as its #1 strategic initiative, how Anna is applying her three decades of experience to help the company achieve its global business objectives, and why she feels so passionate about developing stakeholder management and business savvy as part of true leadership in globalization. She also talks about new learnings that she has included in the recently-updated edition of her book, Truly Global, and she shares some valuable advice for today's ambitious tech CEOs.
Links:
Find this episode on Apple Podcasts, Google Podcasts, Stitcher, or Spotify!