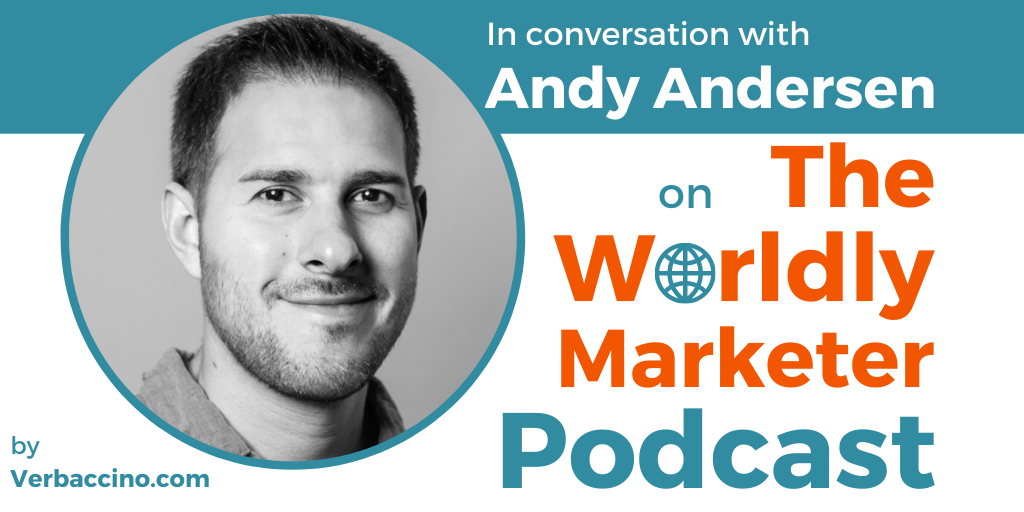 (Length: 55 minutes)
Andy Andersen drives international growth at Tinder, the world's most popular app for meeting new people. Headquartered in Los Angeles, California, Tinder was introduced almost ten years ago, on a college campus, and has since evolved into the highest grossing non-gaming app globally. It is now available in 190 countries and over 40 languages, has been downloaded more than 450 million times since its launch, and has led to more than 65 billion matches – including more than 145 million new matches via its 'More Genders' feature.
Originally from Louisiana, Andy has a background in business and international studies, and he is fluent in English and Spanish. He has had a very interesting career path. In 2012, while he was still a university student at Louisiana State University (and the same year that Tinder got started), he launched a blog called Backpacking Diplomacy, which was focused on everything global from general travel tips to in-depth cultural immersion.
After a brief stint in Puerto Rico working in the hospitality industry, Andy relocated to Brooklyn in 2014 to take on the role of Linguist Recruiter at a New York-based language services company catering to the legal services industry. His foray on the vendor side of the translation & localization industry lasted the better part of three years. In 2017, Andy transitioned to the client side when he joined Tinder as Localization Program Manager, and he has been at the company ever since. In his current role, he is centred on international growth, and works with a team of 15 in-house specialists.
Besides his role at Tinder, Andy is an International Growth Consultant at AppLocalization.io, a consulting group of working international growth professionals, who help products reach the world through strategically customized localization, product, and user acquisition tactics.
Links:
Find this episode on Apple Podcasts, Google Podcasts, Stitcher, or Spotify!