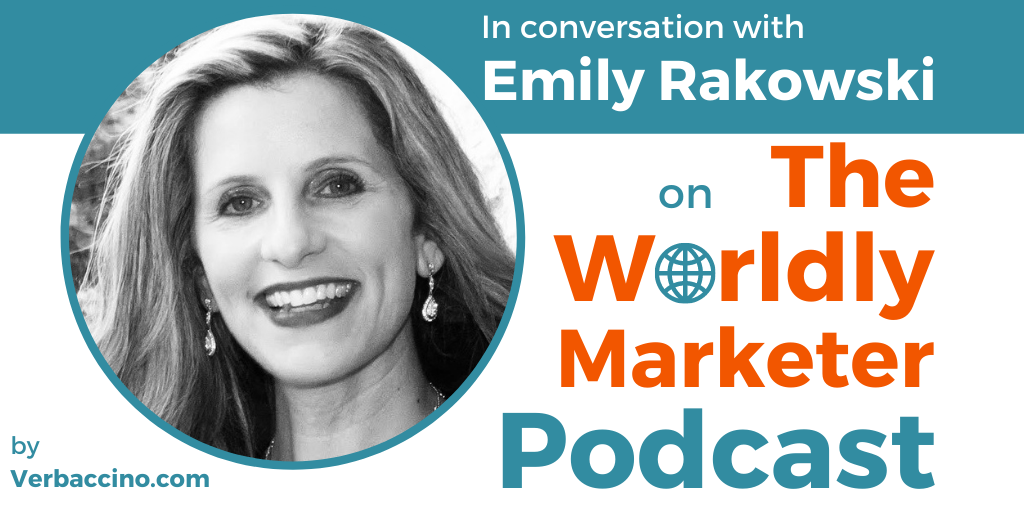 (Length: 37 minutes)
Emily Rakowski is the Chief Marketing Officer at EcoVadis, the world's most trusted sustainability ratings provider. Launched in 2007 and headquartered in Paris, EcoVadis helps businesses reduce risk and drive performance & innovation in their supply chain by evaluating their environmental, labor & human rights, sustainable procurement, and fair-trading practices.
The EcoVadis methodology, which is built on international CSR standards, covers over 200 industries across more than 160 countries. The organization now has nine offices around the globe, and it works with over 85,000 companies, including global brands such as Verizon, Johnson & Johnson, Subway, Coca Cola, Salesforce, Renault-Nissan, ING Bank, and Nokia.
With a B.A. in International Relations from Stanford University and an MBA from the Kellogg Graduate School of Management, Emily has over 25 years of experience in sourcing and procurement solutions.  She spent many years in global marketing and demand management with both SAP and Ariba, and also worked in leadership roles at Ellucian, Kearney Procurement Solutions, Creative Good, and Kearney Consulting, where she managed marketing functions and consulting engagements for clients in the high technology, banking and energy industries.
Now based in the greater Washington D.C. area, Emily leads a global team of professionals, who cover all aspects of EcoVadis' B2B marketing, supporting the company's annual revenue growth, and helping to drive the overall business strategy. She was also instrumental in the success of EcoVadis' $200M funding round back in January 2020.
In this interview, Emily discusses the challenges of building a brand that engages stakeholders around the world and working with a globally dispersed marketing team. She also talks about the evolving language of Sustainability, and the trends she's seeing in ESG (Environmental, Social, and Corporate Governance) conscienciousness among big global brands today. Tune in!
Links:
*As a listener of The Worldly Marketer Podcast, you can use the special discount code wmpodcast to save $100 when you register for GALA's next Annual Conference, happening from April 24-27, 2022 in San Diego, California. Or, if you're planning to attend the conference virtually, you can use the discount code wmpodcastv to save $25 off the virtual rate.
Find this episode on Apple Podcasts, Google Podcasts, Stitcher, or Spotify!