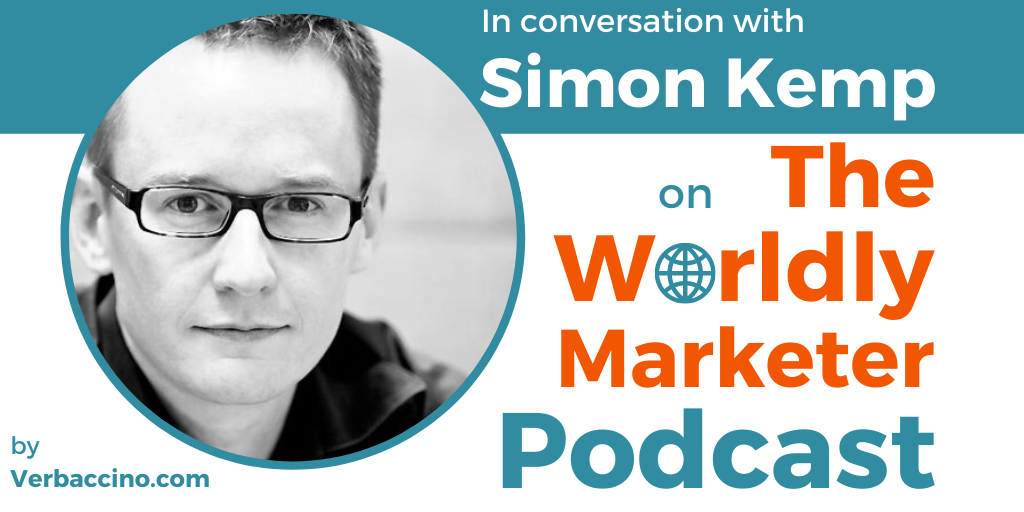 (Length: 62 minutes)
Simon Kemp is a global authority on how people use the Internet. As Founder & CEO at Kepios, a strategy consultancy, he helps organizations all over the world to make sense of what people are really doing online, to identify changes in digital behaviour, and to understand how these trends will impact their success.
Originally from Scotland, Simon has been based in Singapore since 2007. In parallel to his work at Kepios, he is also the Chief Analyst at DataReportal, an online reference library of up-to-date reports that explore people's digital behaviours globally, regionally, and by country. These free reports, which he produces in collaboration with Hootsuite and We Are Social, provide current information on everything from Internet penetration rates to online activities such as mobile usage, social-media habits, e-commerce adoption, and much more.
Simon has been featured on eight previous episodes of this podcast, most recently about a year ago, on episode #213. You could say that he has become a perennial guest of the show, and he's always a pleasure to catch up with. In this interview, he returns to the show to talk about his Digital 2022 Global Overview Report and Local Country Reports, and he shares his analysis of some of the more remarkable data points.
As always, the numbers tell an interesting story of what people around the world are actually doing online. And once again, Simon's findings will likely present a challenge to many marketers' assumptions. Tune in and prepare to be surprised!
Links:
Find this episode on Apple Podcasts, Google Podcasts, Stitcher, or Spotify!