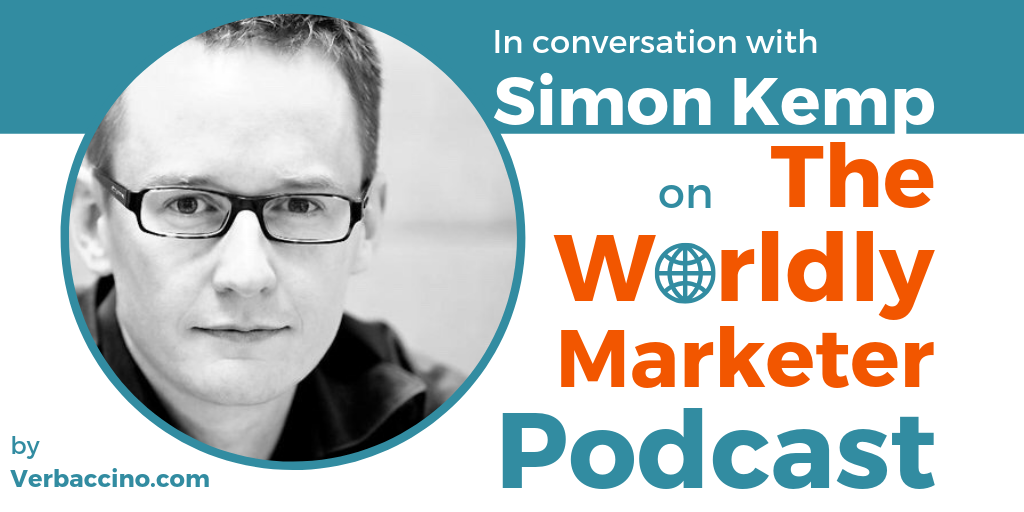 (Length: 42 minutes)
Simon Kemp is the Founder & CEO at Kepios, a digital marketing consultancy that helps brands make sense of the future. He's also a writer, a speaker, a mentor and a coach on the topics of marketing, social media and digital strategy. Originally from Scotland, and based in Singapore for over a decade now, Simon has become a perennial guest on this podcast. He was previously featured on episodes #022, #048, #104, #125, and #138.
Simon is the quintessential Worldly Marketer: more than anyone else, he has his finger on the pulse of the world's Internet usage. His annual Global Digital Reports provide detailed and up-to-date information on how people around the world are using the Internet in general, and social media and ecommerce in particular. Produced in collaboration with Hootsuite and We Are Social, his reports, which by now number in the hundreds, are all available for free via his online reference library at DataReportal.com.
On this episode, Simon talks about the very latest Internet trends as of July 2019, which he outlines in his recent Q3 report. Among the main headlines from this report: the incredible growth in the number of new Internet users in India, and the massive popularity of esports as a form of entertainment in China and other Asian countries.
Be sure to tune into this fascinating conversation!
Links:
Find this episode on Apple Podcasts, Google Podcasts, Stitcher, or Spotify!