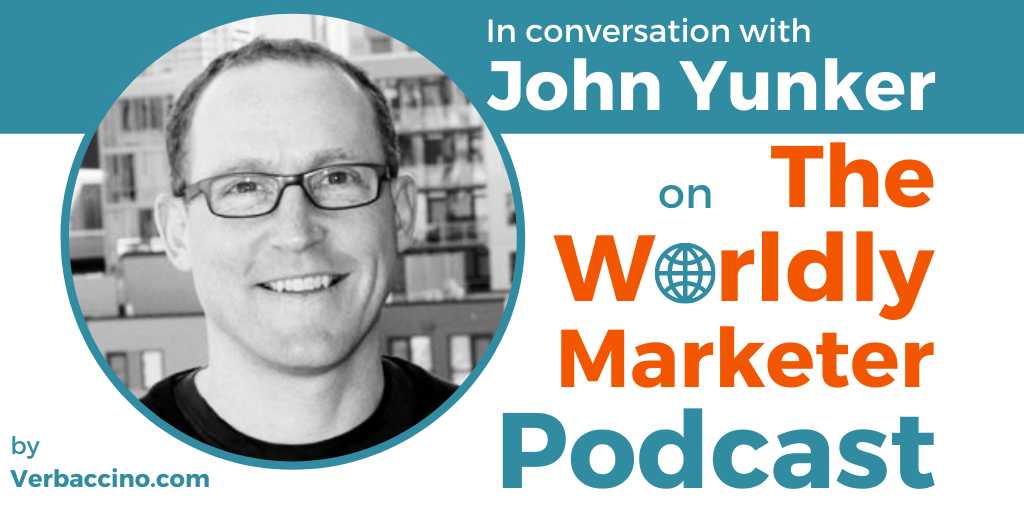 (Length: 45 minutes)
This episode was sponsored by Vistatec.
John Yunker is a well-known pioneer in the field of web and software globalization, and he has been featured on two previous episodes of this podcast: episodes #059 and #182. As the Co-Founder & President of Byte Level Research, an agency based in Ashland, Oregon, he specializes in researching, promoting and advising on best practices in web globalization.
For over two decades now, John has been helping companies improve their global content, their websites, and their software through specialized reports, consulting, speaking, and training sessions. He has worked with many of the world's largest multinational corporations, providing them with web-globalization training and benchmark services.
In addition to his client work, John writes a well-known blog called Global by Design, and has authored several books, including "The Savvy Client's Guide to Translation Agencies, The Art of the Global Gateway", "Beyond Borders: Web Globalization Strategies", and most recently, "Think Outside the Country: A Guide to Going Global and Succeeding in the Translation Economy". But he is perhaps best known for his annual Web Globalization Report Cards, which provide an up-to-date evaluation of how major global companies are performing relative to each other and to current industry best practices.
In this episode, John returns to the show to talk about his 2021 Web Globalization Report Card, which he published earlier this year. Tune in to learn about which global companies are leading the way when it comes to website globalization best practices, what they're doing to attract and retain more international visitors, and what some takeaways are for companies in the earlier stages of international growth.
Links:
Find this episode on Apple Podcasts, Google Podcasts, Stitcher, or Spotify!