E-commerce is now part of everyone's vocabulary. No matter how you spell it (ecommerce? eCommerce? Ecommerce? e-commerce? e-Commerce?), we all know it stands for electronic commerce. But what about D-commerce? Don't worry if you've never heard of it. Most people haven't. But it's already changing billions of lives.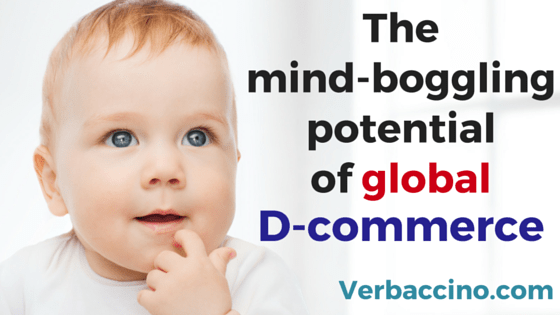 D-commerce stands for digital commerce. (No big surprise there.) Some might say it's just another name for E-commerce. After all: what's the difference between 'electronic' and 'digital', really? Others think of D-commerce as a sub-category of E-commerce, usually relating to the publishing industry.
A new online alphabet.
Lately, there's a new definition of D-commerce emerging from entrepreneurship circles. Under that definition, D-commerce is a completely unique, never-seen-before business model – one that wasn't possible even 10 years ago, and one that will change the world in ways we haven't even begun to imagine.
While E-commerce typically refers to the online buying and selling of physical goods or offline services, D-commerce is becoming the term of choice for businesses that deal in purely digital products or services.
Examples include:
e-books
webinars
online education
apps and other downloadable software
web hosting
software as a service (SaaS)
paid membership communities
downloadable music or videos (e.g. iTunes)
streaming services (e.g. Spotify, Netflix)
on-demand radio (i.e. podcasts)
digital currency (e.g. bitcoin)
And more digital products and services are emerging every day, as technology continues to evolve and a new ideas take shape.
A new business model.
Brian Clark, CEO of Rainmaker Digital and founder of the Digital Commerce Institute, is a trail-blazer of the D-commerce business model. In an October 2015 podcast episode, he talks about why he rebranded his already successful company, Copyblogger Media, into the new Rainmaker Digital: "Digital commerce is basically what kind of company we are. More than content marketing, more than WordPress, more than anything else – we sell digital products and services. We market them online, we deliver them online, we support them online. We are a digital business."
The common denominator of D-commerce  businesses is that the entire customer journey – everything from brand awareness, to product selection, to payment processing, to delivery of the product or service, to customer support – everything takes place online. There is no physical product, there is no offline service. Nothing needs to happen outside of the digital environment in order to complete the transaction. So in that sense, companies like Uber or Airbnb are not D-commerce businesses per se, because the customer is still paying for a "real world" service in the end: transportation, travel accommodation.
Moreover, D-commerce is scalable by its very nature, meaning that there are no inherent limitations on the availability of a product or service once it's been created. Since everything happens digitally, the only limiting factor is the technology required to create, deliver and support the product (from the vendor's perspective), and to purchase, receive and use the product (from the buyer's perspective). That technology is evolving constantly, and more and more people around the world are getting access to it.
We all understand that, like it or not, digital technology has forever disrupted the traditional media industry. More and more publishers are moving from print to digital. The days of music CDs, DVDs and cable TV are clearly numbered. And when was the last time you went to a brick-and-mortar store to buy computer software?
A new type of entrepreneurship.
We're only just beginning to understand the full potential of ever faster, ever more powerful, increasingly mobile and globally accessible Internet technology. Just a decade ago, the concept of a "digital nomad" was unheard of. Now people like Natalie Sisson and Pat Flynn are inspiring a whole new generation of location-independent entrepreneurs to adopt D-commerce as their business model of choice.
The next step is for these new digital entrepreneurs to realize: not only can they run their business from anywhere in the world, they can target international markets anywhere in the world.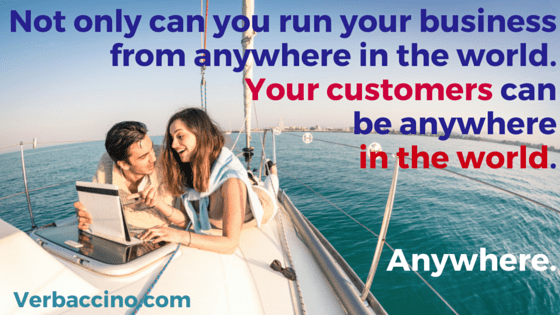 Unprecedented global potential.
In this increasingly connected world, more and more SMEs are realizing that international markets are within their reach. In fact, whether they like it or not, they now have to compete in a global marketplace. All over the planet, people are shopping online, and not just within their own borders. Global E-commerce is is here to stay, and it's growing every year. "Retail therapy is giving way to e-tail therapy", as a this Nielsen report put it, and the new digital commerce space is turning us into "buyers without borders".
According to a report by the Ecommerce Foundation, online sales of B2C of goods and services totalled $1.938 trillion in 2014. Of that number, $328 billion (or nearly 17%) were cross-border purchases. And those numbers will keep increasing every year, as more and more people around the world gain access to the Internet – especially in emerging markets, where Internet penetration rates are below the current global average of 46%, but growing the most rapidly.
Based on current trends, eMarketer has projected that worldwide E-commerce retail sales will be worth $3.578 trillion by 2019, which will still only represent 12.8% of estimated total retail purchases. Of course, online shopping is much more popular in some countries than in others. But in terms of total revenues generated, the rising middle classes in the Asia-Pacific region now account for 52.5% of the global E-commerce retail market – and that percentage will only increase.
E-merchants of all sizes are going global. So can D-merchants.
Now here's some food for thought: if even the smallest E-commerce merchants can go global, what's preventing D-commerce entrepreneurs from doing the same?
That's not to say it's a simple process. For from it.
But D-commerce has one huge advantage: everything happens in the digital space. There's no cross-border shipping of physical products, no supply-chain issues, no traditional trade barriers, and no need for a brick-and-mortar overseas office. All that's required is a willingness to adapt your digital products for foreign customers, some careful market research, and then finding the right team of people to develop and implement an international marketing strategy.
Easier said than done, of course, but absolutely doable. Translation, cultural adaptation of content and international marketing have long been part of the American movie industry's well-oiled machine. Similarly, in the mobile app and gaming industry, more and more developers are willing to invest in product localization so they compete in lucrative foreign markets and tap into emerging ones. The ROI just can't be denied, even for developers on a budget.
As for digital products like ebooks, webinars and online courses – the bread and butter of many new digital entrepreneurs – there are enormous opportunities for anyone willing to think outside the English-language box. As of this writing, a whopping 53.7% of all websites are still in English, with Russian placing a very distant second at 6.3%. In fact, going down the list of languages, the percentage of online content for each language is in complete disproportion with the current number of active Internet users who are native speakers. Content creators have yet to accommodate the fact that, in 2016, the majority of active Internet users are not native English-speakers, and that they may or may not read it as a foreign language. Many Internet users, especially in emerging markets, have very little if any English. When they shop online – as more and more of them do – they choose e-merchants who speak their language.
Talk about an opportunity for global-minded digital entrepreneurs!
D-commerce was born to go global.
That's not to say there aren't country-specific rules and regulations to consider. China immediately comes to mind as a country that puts a number of restrictions on the content its citizens are allowed to access online. And the European Union is trying to balance its efforts to be digitally competitive with its citizens' concerns over data protection. Still, global D-commerce arguably faces far fewer regulatory hurdles than E-commerce does.
An yet, most English-speaking digital entrepreneurs are completely focused on creating English-only products. Why hasn't the community of D-commerce thought leaders begun to think in truly global terms?
Where is the global vision?
Do North American entrepreneurs lack an awareness of who uses the Internet in 2016? Possibly.
Is there an assumption that most digital consumers know enough English to make a purchase, no translation required? That's a faulty assumption, and one that leads to being uncompetitive in the 21st Century – as I argued in a previous post.
Is it a belief that the English-speaking market is big enough, or that it's the only market worth catering to? The same reasons that make languages worth investing in for global E-commerce also apply to global D-commerce.
Is it a lack of available talent, a dearth of experts who can successfully translate and localize digital products for non-English-speaking markets? Au contraire! Qualified, talented people are everywhere, if you know where to look. And in the Digital Age, you don't have to be a multinational corporation to build a global team.
So here's my call to action for English-speaking digital entrepreneurs:
Start thinking globally!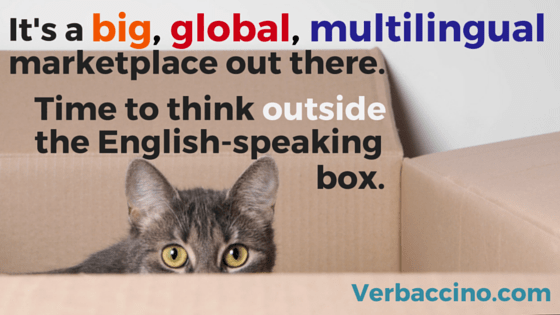 You're looking at the opportunity of the century: to reach out to a vast and steadily-growing majority of Internet users that have never been catered to before. Why limit the growth potential of your business? Why target only those Internet users who are able and willing to consume English-language products? It's a big, global, multilingual marketplace out there. Time to think outside the English-speaking box.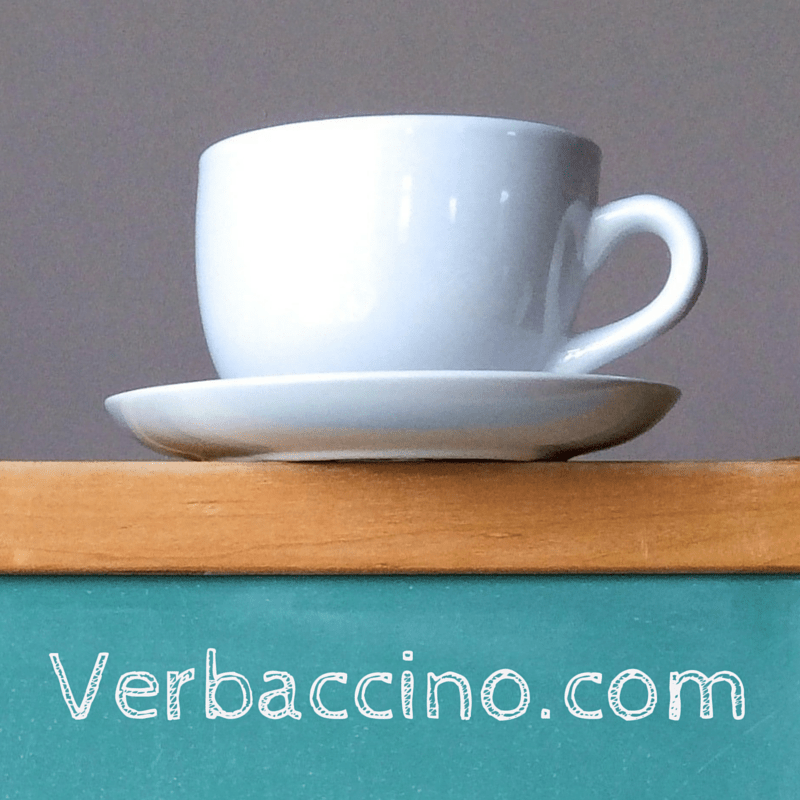 What are your thoughts about D-commerce and its global potential? Let's start a conversation.
If you enjoyed this blog post and you know others who might enjoy it too, please share it using the social share buttons below.
You can connect with Verbaccino on social media: LinkedIn, Twitter, Facebook, Pinterest, Google+ and Instagram.
For valuable tips on how to grow an international audience online, subscribe to Verbaccino's monthly newsletter, The Worldly Marketer. It's free!