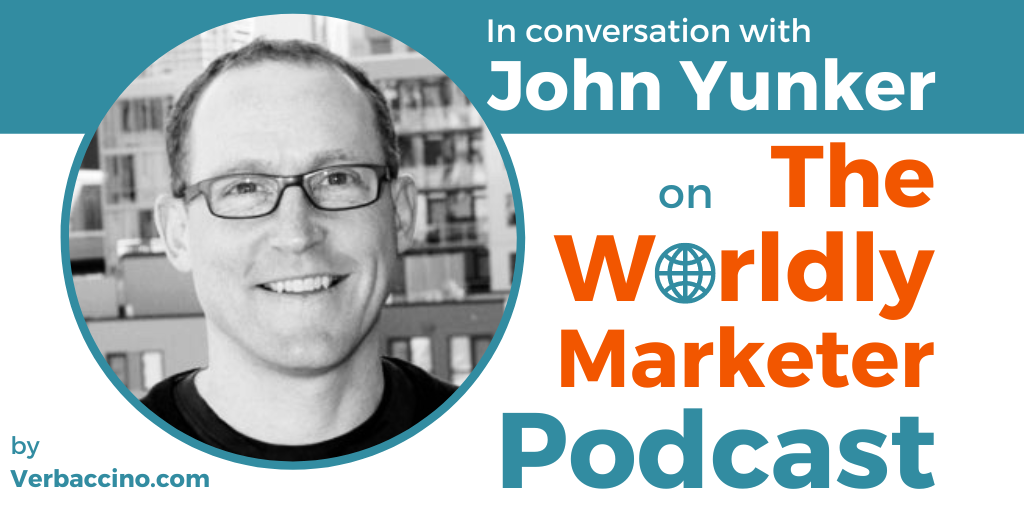 (Length: 50 minutes)
John Yunker is a well-known pioneer in the field of web and software globalization, and, by now, one of the perennial contributors to this podcast. I've featured him on three previous episodes: #059, #182 and, most recently, #221. He is the Co-Founder & President of Byte Level Research, an agency that specializes in researching, promoting, and advising on best practices in website globalization.
Based in Ashland, Oregon, John has been helping companies improve their global content, websites, and software since 2000. He has worked with many of the world's biggest multinational corporations, providing them with web-globalization training, specialized reports, and benchmark services. His Web Globalization Report Cards have become required reading for global brand leaders everywhere; these annual reports provide an up-to-date evaluation of how major global companies are performing relative to each other and to current industry best practices.
Besides his client work, John writes the popular blog Global by Design, and has authored several books, including Beyond Borders: Web Globalization Strategies, the first book devoted to the emerging field of web globalization, and more recently, Think Outside the Country: A Guide to Going Global and Succeeding in the Translation Economy.
I'm absolutely delighted to welcome John back to the show to talk about his 2022 Web Globalization Report Card, which he published earlier this year.
Tune in to our conversation, and learn about how the top global websites make sure that international visitors have the best experience possible.
Links:
Find this episode on Apple Podcasts, Google Podcasts, Stitcher, or Spotify!